The Eggares Olive Press Museum, Café & Shop
Experience Greek Olive Oil
Welcome to the Eggares Olive Press, one of Naxos's oldest remaining olive mills. Recently renovated, the Eggares Olive Press dates back to, at least, the late 1800s when it pressed locally-grown olives for the village community.
The olive press has been in the Lianos family (the owners) for at least five generations and was recently restored by the well known civil engineer Yiannis Protonotarios who also undertook the renovation of the surrounding property.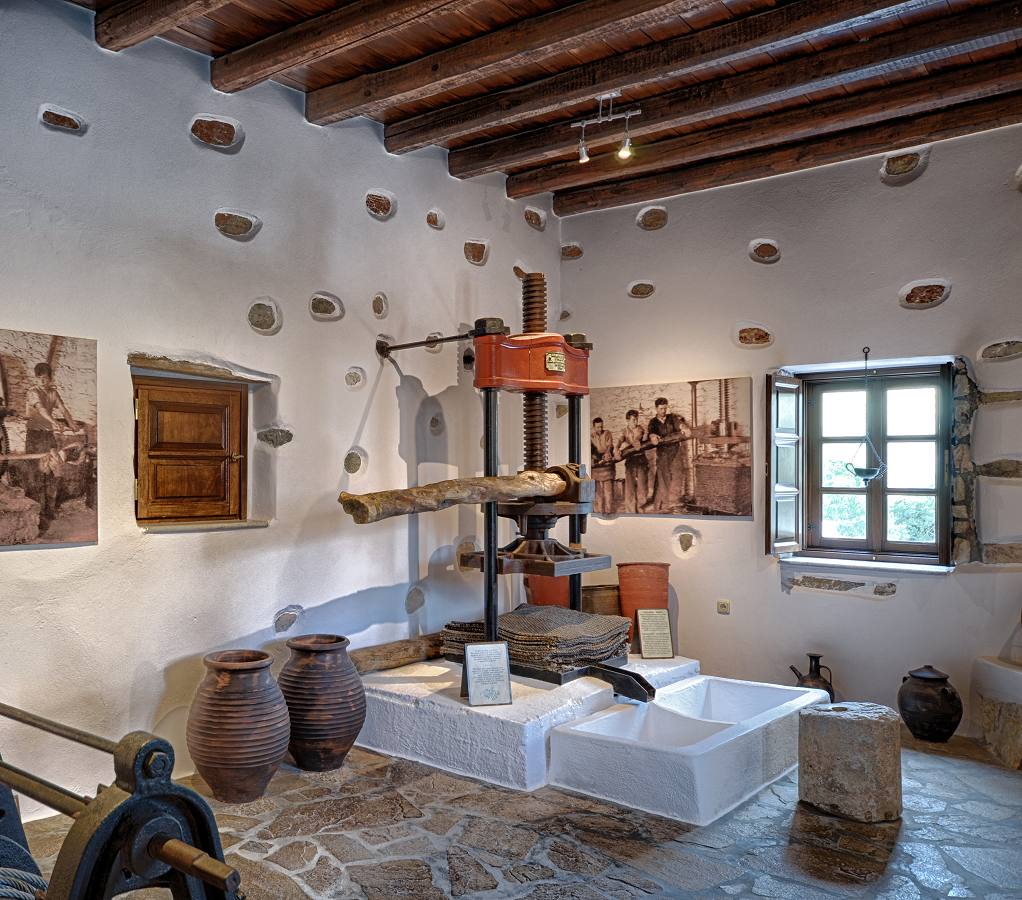 DATES BACK TO 1884
IN EGGARES VILLAGE, NAXOS
Today, the original stone built structure has been elegantly refurbished to evoke a sense of tradition updated in a contemporary white Cycladic design.
The Olive Press exhibition area features original production materials once used at the site. Here, visitors can enjoy a free tour and brief presentation of how olive oil was originally produced at that time.
Adjoining the exhibition area is the olive shop 'nook' where olive tastings take place and a selection of olive oil product souvenirs are available. After the free tour visitors can enjoy complimentary tastings of a variety of infused olive oils and olive ingredient snacks, such as Mama's famously delicious olive bread, cake, cookies and more!
The outdoor patio is a soothing place to sit back and relax and enjoy some local refreshments.
Have a seat and indulge in the natural habitat of Eggares, the village of Naxos known for its verdant fertile landscape, before continuing your exploration of the island…
We look forward to welcoming you!
Testimonials
What visitors say about us
"
"Small hidden olive museum with character and small informative tour. Different olive oil, cake and other tastings (free)! Must do while in Naxos!"
San Francisco, California
"Cute museum, super helpful staff that show their passion throughout. Loads of tasters at the end and we stayed longer to have some delicious coffee accompanied by diary free olive oil cake! Great stop if you're driving through the small towns in Naxos."
"You can learn about how olives were produced a long time ago. There are many products made from olives. The olive tasting is scrumptious. You have to try it! I love the olive jam! They have infused olive oil, jams, lotions, cookies, and more! We enjoyed visiting and taking home some goodies!"
"4th visit to Eggares Olive Press Museum. Staff are amazingly friendly and informative and their oils are the best."
"We were amazed by the introduction to olive pressing process and the lovely view from the tiny sitting outside. The place is full of history. We took some olive oil with oregano and olive paste back home. The sweet olive are awesome, not to be missed out!"
Abu Dhabi, United Arab Emirates